This bird stands in judgement outside the main gallery at the Royal West of England Academy. The glass on the bar once contained bourbon whiskey — look closely and you can see an empty Wild Turkey miniature.
The turkey's by filthy luker. He works with pigeons too …
… and monsters!
Right now filthy luker is artist in residence at the RWA. Also in residence at the RWA — just outside, on the balcony, where those tentacles were — is Damien Hirst's outsize collection box, Charity.
What I mean to say: the RWA is Bristol's finest exhibition space and it puts on Bristol's finest exhibitions. The juxtaposition of classical architecture and urban art works well. Classical paintings fit in superbly too: last year's Robert Lenkiewicz retrospective was stunning.
It costs to get in though. It cost £4 last year and now it costs £5. That's quite a lot for a show you're not sure you'll like. Often the shows you're not sure you'll like are the ones worth seeing, and seeing again. That's why I'm a Friend. I work around the corner and can head over whenever the computer screen makes me dizzy.
Jason Lane made the bird on the card from scrap metal. I'm not sure what type of bird it is. An archetypal mix of hornbill/stork/flamingo maybe? In the gallery behind the turkey are more birds, owls, by Ivor Abrahams, along with his interesting 2½ dimensional sculptures and some tiresome garden things.
I quite liked the show until I read what he had to say on the "interpretation panel".
The sculptures, collages, prints and drawings of Ivor Abrahams occupy a very particular place in British 20th Century art. No other artist has attempted to do what he has done — to create an entirely new kind of polychrome sculpture which operates effectively between painting and sculpture — and achieved such a catalogue of notable successes in the process. Essentially subversive, Abrahams has also gained a reputation for a wicked wit and a generally argumentative demeanour. Nothing is sacred, particularly the established names of the past. As he has admitted: "I always enjoyed the pomposity of academic sculpture, the grandiosity and rhetoric. The edifying or inspirational nature of the art has always led me to treat it with the greatest of disrespect." That irreverence has fuelled his career, and helped him make of the sum of destructions a newly-constructed vision of his own work.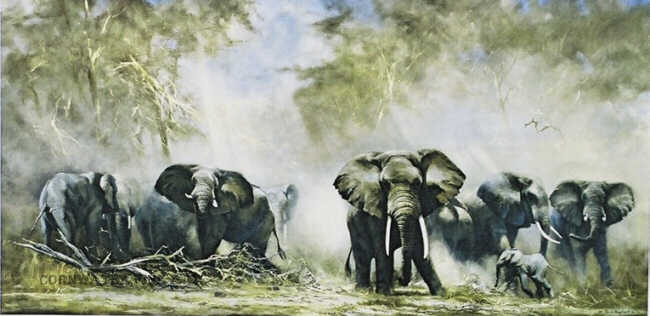 Alongside, and by contrast, are a number of paintings and prints by David Shepherd. They aren't to my taste but they most certainly were when I was younger (the animal ones, not the trains and planes). I can't argue with his attitude either.
David Shepherd paints every day of his life. Now aged eighty, the famed wildlife, aviation and steam train artist describes his life as 'a series of disasters' — David Shepherd's career has been shaped by serendipity. Rejected by the Slade School of Art, David planned to train as a bus driver. A chance encounter with artist Robin Goodwin resulted in a three-year apprenticeship — a first for Goodwin, who revelled in the challenge, and a life-changing opportunity for Shepherd.

Goodwin taught Shepherd commercially as well as artistically. "Throwing paint at the wall and 'expressing yourself' doesn't pay the bills", taught Robin. "Artists, like everyone else, have to work eight hours and more a day, seven days a week, to meet their responsibilities." These words have informed Shepherd's work, and he is now one of the UK's most financially rewarded artists.