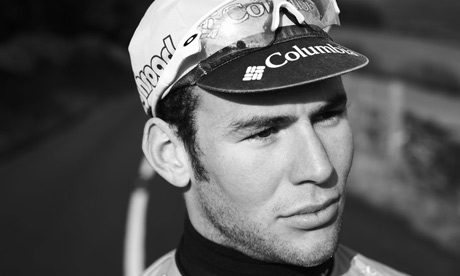 There's a fine interview with sprint champion Mark Cavendish in today's Observer. Despite British success in the Olympics, the most exciting sporting moments for me this year were Cavendish's 4 thrilling, awesome, stage victories in the Tour de France.
I remember the TV interviews which followed these victories. After his 3rd stage win he was psyched up to make it all the way to Paris (something the sprint specialists don't always manage) and as I wrote at the time:
I'd love to see him storming round the Champs-Élysées — if he gets there, he'll win the final stage too.
But after his 4th stage win, he became subdued and tetchy, and all of a sudden he'd quit the race to stay fresh for the Olympics. Ironically his Olympic partner in the Madison, Bradley Wiggins, was the one lacking freshness — hardly surprising since he'd already won two gold medals in the Laoshan Velodrome, setting a world record in the process — and Cavendish now regrets his decision.
'The biggest regret of my career is quitting the Tour de France,' Cavendish continues, looking back on his decision to leave this year's race after stage 14 so that he would be fresh for the Olympics. 'I feel massively let down, I'm still bitter now. To leave the Tour de France to do that. You sit there, sit there, you're the last event on, every single member of the team has got a medal, the pressure's on you and, boom, it goes. You don't get it, even though I still think I was the best rider on the track. It's quite hard to accept really.'