Whenever I enjoy reading a book I make a mental note to review it here, but somehow I haven't got round to writing all those reviews. The truth is, I find it very hard to put in words exactly why I like a book. So here are three books I read last year which I really must recommend.
Stuart, A Life Backwards
Alexander Masters' book "Stuart, A Life Backwards" starts with the death of its anti-hero, Stuart, a "chaotic" homeless person from Cambridge, then proceeds to tell his life story in reverse order. (Here the term "chaotic" is used to describe someone whose life is completely out of control: offender, chronic drug abuser, alcoholic). On the surface, this is a plainly written biography — Stuart Shorter's true story written down directly by hostel worker Alexander Masters — but you'll come to appreciate it as a cleverly constructed and well written novel. The reversed narrative works brilliantly: from the start we know what happens, but as the story unfolds we find out how and why (as much as there can ever be a how and why in such a sad story).
English Passengers
Matthew Kneale's "English Passengers" is a rollicking adventure and historical novel which travels round the world, involving the brutal extermination of Tasmanian aboriginals, Victorian science, religion, and Manx smugglers.
Life, A User's Manual
I have one niggle with "English Passengers": for me, it didn't particularly improve as I worked my way through it. For big books telling big stories, with multiple storylines and narrators, it's important that the story should gather momentum and pull you along to the ending.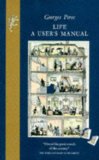 My third book — my book of 2008 — doesn't just get better as you read through it, it gets better each time you read it. Georges Perec's masterpiece "Life, A User's Manual" is a big book which tells many stories. Utterly different from any other book I've read, yet very accessible, it makes great reading out of both the quotidian and the fantastical. It's a compelling and moving story about human failure.