As ever, I'm watching the Tour de France — or maybe I should say I'm following the tour, since I get much of my fix online, direct from riders, commentators, websites.
Usually I like the mountain stages. The scenery, the history, the combat. Winners and losers. The Pyrenees have disappointed with the favourites marking each other and no one prepared to make a sustained attack. We had this in 2010, and we still don't know who won that race.
Roll on the Alps. As @inrng points out, the Alpe d'Huez stage is just under 110km, a sprint. Andy Schleck: don't look back!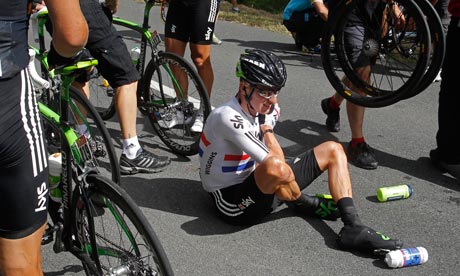 Terrible to see Bradley Wiggins collapsed on the tarmac nursing a broken collarbone and knowing his race was over. What if? He'd shed so much weight in preparation for the mountains there wasn't much left of him but what remained — self-belief, humour, quality — well, the climbers wouldn't have dropped him and he'd have smashed them in the final time trial. There may yet be positives. Geraint Thomas is off the leash and riding with flair and abandon. He's no threat in the GC and could well grab a breakaway stage. Team Sky will build and regroup and throw everything at the Vuelta where Wiggo could yet become the first Briton to win a Grand Tour.
This year the flatter stages have provided better racing. Cavendish has been a great winner. He also lost well, to Greipel, just the once. For the fourth consecutive year, he's fastest. Victory margins haven't been massive but to end up in green you have to run a marathon and a sprint, repeatedly. Is all about conserving energy. He can do it.
Phil Liggett and Paul Sherwen are putting in a solid performance. Ned Boulting too. Chris Boardman sounds dull, especially when voicing the sponsors' messages which bookend the ad breaks:
I've often wondered, why do they have second and third place on the podium? … Yellow isn't a colour, it's a state of mind … When my team had to lift me off my bike at the end of a stage, I knew I'd done enough.
§
I take (some of) it back about Chris Boardman: his analysis of stage 16, the one which finished with a treacherous descent into Gap, was spot on. There's Andy Schleck moaning people don't want to see a race won downhill, yet he hasn't raced uphill either, not really. Or as CB described it: throwing the toys out of his pram.