The Tour de France takes a rest today (though not for the riders in the Étape du Tour, who'll take on Mont Ventoux six days before the pros), giving me a chance to try and make sense of a strange and compelling weekend of racing.
Yesterday's short sharp climb to Verbier made perfect sense and settled a few outstanding questions. Noone climbs like Contador, and the Madrileño confirmed his position as race favourite and Astana team leader. The way he dances up the steepest slopes is truly thrilling. I can't wait to see him climb Ventoux. Armstrong rode with the elite riders, but I'd say Klöden may well be shaping up as the Astana number 2 — he's a strong time trial rider who looked in fine shape on the climb, edging Armstrong at the finish.
And how about Brad Wiggins? Shedding 9% of his bodyweight has morphed him from track rider into Grand Tour contender. Best of all, he's enjoying himself. I think he could come out of Thursday's time trial — his favourite discipline — as Contador's main rival for yellow. Awesome!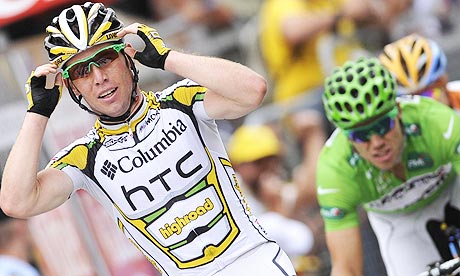 Saturday's stage was more complex. I'm struggling to understand what Mark Cavendish was playing at. Cavendish already has a remarkable 4 stage victories in this year's Tour, matching the 4 he took last year. Well, the number is remarkable, but this year the sprint finishes have seemed routine: the Columbia train leads him out over the final few kilometres, then his team-mates peel away in sequence leaving him to deliver the killer blow. The trouble is, Cavendish's rivals have already rolled over and died.
"Sport evolves and, if you go back to the 1970s, I never, ever had a lead-out man, not once," Hoban said this week. "Everyone was there, man to man. The way they do it now, with a team like that, if they are leading out at 65kph very few people are going to come over that. Anyone to challenge Mark going at 65kph has got to do 70kph."

— Barry Hoban, quoted in the Observer newspaper
You'd have thought this supremacy would leave Cavendish way out in front in the green jersey but he hasn't chased enough intermediate sprints. This leaves him (left him) head to head with the mighty Thor Hushovd in the points competition. My opinion? I don't think Cavendish relishes scrabbling for points and it's brought out his petulant side.
He says he's fastest. His rivals admit he's fastest. He is fastest. But he still wants a race!
On Saturday we had a strange situation. Popular Columbia rider, George Hincapie, was in a breakaway and had a realistic shot at yellow. So team Columbia wanted to slow the chase. But team Columbia also wanted Cavendish to win the peloton sprint for the points given to the 13th place finisher; and so, once more, the train chugged down the final kilometre with everyone watching the clock. Cavendish barely bothered to race for the line. Yes, he blocked Hushovd when he could and should have flown away from him. He wanted to win but in as slow a time as possible.
In the event Hincapie missed out on yellow by just 5 seconds. You can't blame Cavendish for that, but Cavendish is a team player and I suspect he cared more about his team missing yellow than his subsequent disqualification in the sprint. He just wasn't bothered about a race for 13th place.
Whatever, it's probably cost him the green jersey and taken the edge off the showdown next Sunday. I hope he stops feeling hard done by and comes out ready to race. I know he cares more about being fastest on the Champs-Élysées than the points competition.